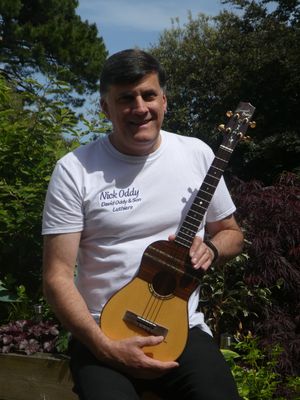 If you're coming to Abbotsbury Festival on 2nd July make sure you buy some raffle tickets to be in with a chance of winning a beautiful studio cuatro from Show of Hands master instrument maker of choice Nick Oddy. All proceeds will be going to Teenage Cancer Trust.
Last year Show of Hands fan and Abbotsbury Festival regular, Liz Atkins, walked 226 miles from Abbotsbury to Cropready to raise funds for Teenage Cancer Trust. Story & pictures below:
Paula's Way 
Abbotsbury to Cropredy 
4 July – 12 August  2021 
I walked the 226 miles from Abbotsbury to Cropredy last year in memory of a young lady, Paula Walsh from Cropredy, who died of leukaemia in 1998 3 weeks short of her 17th birthday and to raise funds for Teenage Cancer Trust. 
The idea was to walk between the Show of Hands Festival and the Cropredy Festival and although both of these became victims to the dreaded lockdown I went ahead anyway. 
I left Abbotsbury on Sunday 4 July with my Airedale Terrier Holly spurred on by John, my husband and old friends, the Sheldons and Pilleys. 
After three separate weeks of walking with both Holly and my other Airedale, Malham, I arrived in Cropredy on 12 August accompanied by more old friends including the Sheldons. 
Most of the walking was excellent except where it wasn't. Those bits, which included having to cross the A303, pale into insignificance by comparison with the beauty of the countryside and the generosity of friends and family who not only helped me along the way but also contributed to an amazing £7,000 for Teenage Cancer Trust.
Liz Atkins