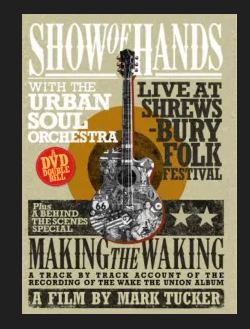 On Sunday 21st March 7.30pm Show of Hands will be streaming the double header film of Show of Hands with The Urban Soul Orchestra live at Shrewsbury Folk Festival plus 'Making the Waking' a track by track account of the recording of the Wake the Union album. Steve & Phil will be chatting live on Facebook after the stream for a Q&A session.
The stream will be available to view until Wednesday 24th March.
DVD & link for film stream available to purchase from our shop here.